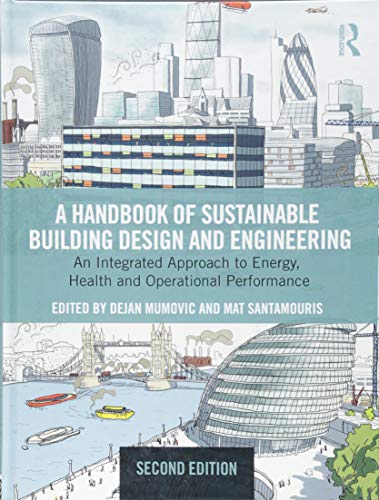 A-handbook-of-Sustainable-Building-Design-and-Engineering-:-an-integrated-approach-to-energy---health-and-operational-performance
Author: Mumovic, Dejan 
ISBN: 9781315172026
Rating:
Edition: 2nd Edition
Publisher: London: Routledge, 2018
Length: 604
Format: eBook
Language Note: English
Subject(s): Built Environment, Engineering & Technology
Description:
The second edition of this authoritative textbook equips students with the tools they will need to tackle the challenges of sustainable building design and engineering. The book looks at how to design, engineer and monitor energy efficient buildings, how to adapt buildings to climate change, and how to make buildings healthy, comfortable and secure. New material for this edition includes sections on environmental master planning, renewable technologies, retrofitting, passive house design, thermal comfort and indoor air quality. With chapters and case studies from a range of international, interdisciplinary authors, the book is essential reading for students and professionals in building engineering, environmental design, construction and architecture.